We just published this month's IPv6 network operator measurements and as usual they include exciting developments in IPv6 deployment from all around the globe.
Sunrise Communications AG (AS5426, AS6730, AS9214), is a Swiss telecommunications provider based in Zurich. According to Wikipedia It has 2.99 million customers making it the second largest telecommunications company in Switzerland after Swisscom. This month's IPv6 network operator measurements show Sunrise Communications AG ranked 74th with a very rapidly growing IPv6 deployment percentage of 27.76%.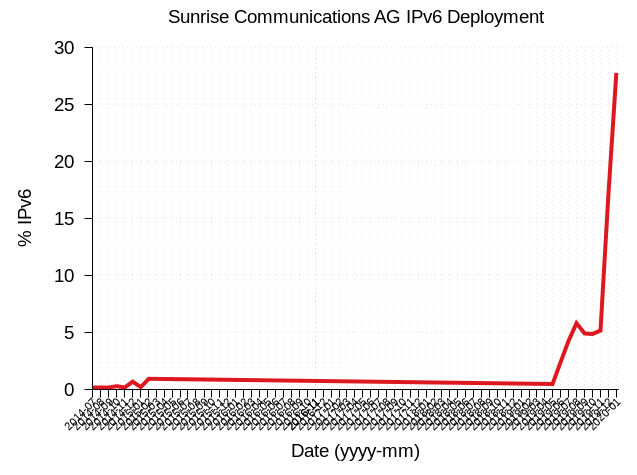 Another interesting development is occurring at Verizon. Verizon Wireless (AS6167, AS22394) has been a stalwart of World IPv6 Launch since 2012 and has had an IPv6 deployment percentage in excess of 80% for several years. More recently Verizon's fixed line network (AS701, AS702) has started showing evidence of growing IPv6 deployment. We look forward to the continued growth of this significant network as part of the IPv6 Internet.
Finally, the new year seems to have brought a renewed impetus to deploy IPv6 in Armenia.
You can view the full listing of newly updated IPv6 network operator measurements for this month.
If you're a network operator deploying IPv6 and would like to join Sunrise Communications AG, Verizon and the other networks that make up the ranks of World IPv6 Launch participants, please register your network for measurement.